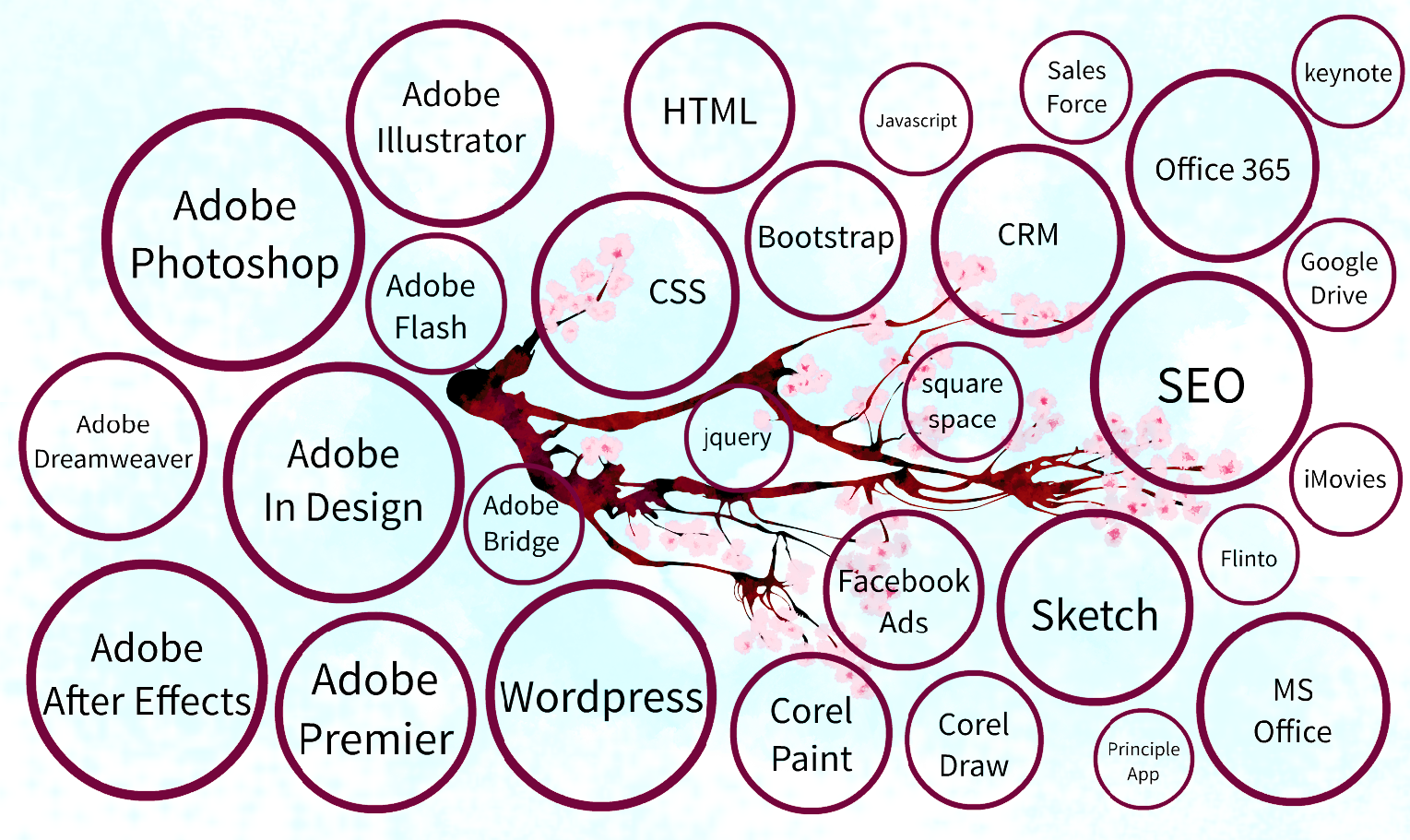 I specialize in the Adobe Creative Suite (Photoshop, Illustrator, InDesign, After Effects, Premier, Spark, Bridge, Dreamweaver, Flash-In order of expertise). 
I also have been designing websites using Photoshop to create Html. I love Wordpress. I manipulate existing templates to create unrecognizable designs (here is my website as proof!) and "bootstrap" my way into creating fresh Wordpress templates as well! I am now developing websites using HTML, CSS, Bootstrap, Javascript and Jquery. 
I have experience in ecommerce platforms such as Shopify, Squarespace, Etsy, eBay, Amazon etc. and have utilized Facebook & Instagram marketing to route clients to above platforms. 
Although I'm an acrylic junkie, I love making digital paintings and illustrations on Corel Paint and Corel Draw. 
I have worked with an extensive number of productivity softwares and have a high proficiency in Microsoft Office & Mac Office (Pages, Keynote, Numbers). I also work well with Office 360, Google Productivity Apps, CRM (Salesforce). 
During my Media Arts & Animation degree, I learned to utilize Autodesk Maya, Z
Brush,Unfold 3d to create environments and characters for 3d animation. I don't list them as specializations because I no longer work extensively with them. However, I can create 3d assets using 3d programs.
I am enrolled in the Masters program for UX Design this fall and am starting to gain proficiency in Sketch, Flinto, Principle App and more to pivot my career into experience design!
Say hello using the form below!